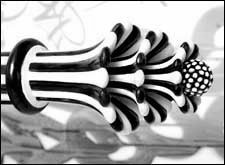 The Van Gregory & Norton design studio, located in a 19th century artistsí loft in Brooklyn, produces hand-finished custom curtain hardware for the design industry.

Natural forms and classical architecture inspire designers Van Gregory Wifvat and Kelly Bugden. Drawing on their backgrounds in fine art and painting, they proudly put forth a collection representative of diverse eras and styles - from early classical to modernist and contemporary forms.

Since its inception, Van Gregory & Norton's work has been featured in books, magazines, showrooms and show houses.

Window hardware and mirrors are available exclusively to the trade. Please contact your nearest showroom for information about placing an order. We sincerely look forward to working with your design team.