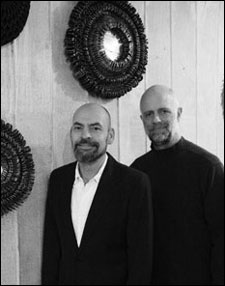 Our business is designed to offer clients a wide range of styles with hand finishes – to match virtually any fabric, wood or color sample imaginable. From the brightest teal to the deepest walnut to the most intense fuchsia, our fine arts backgrounds have trained us to create curtain hardware and mirror finishes which blend perfectly into each environment.

From the start of each project, we maintain open lines of communication with designers to maximize the potential of their vision.

Our water gilding techniques are thoroughly authentic and incomparably superior. Every part of this old-world craft is accomplished exclusively by hand in the Brooklyn studio, using master techniques we've perfected over 25 years in business. Beginning with Bolognese gesso and clay boles, we use gold leaf in 22, 16 or 12 karats, as well as silver leaf.

We are proud to adhere at all times to the highest standards of craftsmanship.